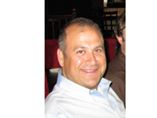 Maroun El Khoury received his M.Sc. from Université de Montréal in 1993 with Dr. Michel J. Bertrand studying the atmospheric contribution to the chemical contamination of the St.Lawrence River from target classes of contaminants.
Following his M.Sc., he briefly worked as a Research Assistant at the McGill Center of Nutrition and the Environment of Indigenous Peoples and then as a Development Chemist for ICI. In 1997. He joined Varian as the Eastern Canada Chromatography Representative and then moved-on to join Thermo Fisher Scientific in 2000 as the Eastern Canada Sales Representative for Life Sciences Mass Spectrometry (LSMS) technologies where he has been in this role since. In 2014, he has been in the role of the Lead Sales for LSMS where he overlooks and manages the Canadian business.
Maroun has been a board member of the Canadian National Proteomics Network since its foundation in 2008 and is also on the Technology Advisory Committee Board of CFABS.